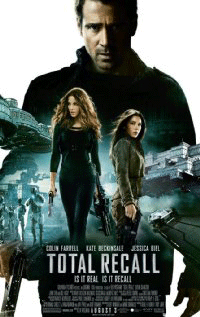 It's been so long since I've seen the original Total Recall that I can't totally recall (my sincerest apologies) if it's a film that stands the test of time or not.  What I do know is that the Colin Farrell/Kate Beckinsale/Jessica Biel remake looks entertaining and action-packed even if Farrell seems a curious choice as Doug Quaid.  Doesn't matter.  I look forward to screening it next week almost as much as you look forward to my review.
Until then, here's a treat to all seven of my faithful readers.  In the following featurette, Colin Farrell, Jessica Biel, John Cho, and director Len Wiseman discuss the story, while Kate Beckinsale briefly talks about playing a villain for the first time in her acting career.  Enjoy.
QUESTION
Is this a remake that you're looking forward to or is it one you could do without?
Tweet
2 Responses to "Total Recall: Kate Beckinsale as a Villain Featurette"