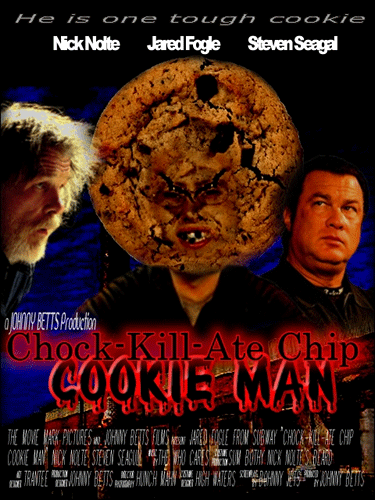 In the Tradition of The Gingerdead Man
Consider this my Thanksgiving gift to you.  Here's the plot teaser:
In an ingenious – albeit unconventional – casting decision, Jared from Subway plays Jared – a kid who has been a loser his entire life.  His face is so pocked with acne that kids in school called him "Chocolate Chip Face."  Even his parents are embarrassed of him.
Fed up with his unfavorable lot in life, he goes to visit a woman who is said to have mystical powers.  After their meeting, she gives him a batch of "special" chocolate chip cookies that she instructs him to eat before going to bed.  He does as requested and the next morning he wakes up and looks into the mirror to see that his entire head has literally been transformed into a chocolate chip cookie.
Intrigued?  You know you are.  Now go read the full synopsis and have a great Thanksgiving.