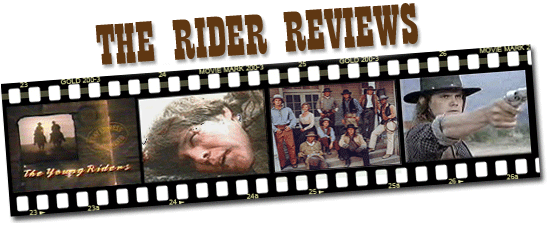 Hello and welcome to The Rider Reviews.  My name is Johnny Betts.  I'm a lifelong fan of The Young Riders, and I'm also a very gifted writer (at least that's what I tell myself).  Several years ago I decided it was time to add my own voice to The Young Riders world, and I was able to do that through my award-winning, Internationally-acclaimed episode reviews – The Rider Reviews.
So why did I quit?  Well, life and other ambitions got in the way.  I like to think that my reviews and constant pimpin' of the show's biggest star – Mr. Josh Brolin – helped play a part in getting Season 1 released on DVD and in catapulting Josh's movie career into the Hollywood stratosphere.  My reviews garnered the attention of both Mr. Brolin and the show's creator – Ed Spielman.  As those other ambitions arose, the priority of the Rider Reviews continued to drop.
So why the comeback?  Because my job is not finished.  My passion for the show will not allow me to rest until Seasons 2 and 3 are on DVD and until I've finished my take on the entire series.  I don't like leaving a job undone, and the fact that I still receive emails asking if I'm going to write any more reviews shows me that the passion for the show still resides in its fans.
Stay tuned, folks.  I will start off by posting the remastered versions of my old reviews – there will be enough tweaks and new features that you will want to revisit them (get ready for YR Tweets!) – and then I'll transition into writing new reviews.
The purpose of The Rider Reviews has always been and will continue to be to enlighten and entertain you by giving my take on various characters, plot lines, goofs, and anything else that pops in my mind during an episode.  You – the reader – won't always agree with what I say (not at first, anyway), but you'll be entertained by it nonetheless.
Let me go ahead and warn you there's a pretty good chance that no matter who your favorite rider is, they'll most likely get some good-natured ribbing along the way.  Unless you're a fan of Jimmy, of course.  He was just too cool to do much stuff that can be made fun of, but I'll do my best to find something.
All I ask of you is to please post your comments and tell your friends.  Let's get the discussion going, and let's do our part to make the memory of The Young Riders flourish!
Title
© 2012 The Movie Mark, Inc.
The Kid
The one where we meet the Riders.