Tweet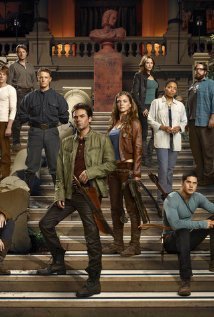 Revolution (by Shawn Mathenia) (2012)

" The show has potential. I am a huge Abrams fan, so I was expecting more from it. But I do not think my time was wasted. All in all, I will be watching this series. "
Director: Jon Favreau
Starring: Billy Burke, Daniella Alonso, Tracy Spiridakos
Studio: Warner Bros. Television
Tagline: 15 years after the blackout...they will light the way.
Release Date: September 17, 2012
PLOT
Our entire way of life depends on electricity. So what would happen if it just stopped working? Well, one day, like a switch turned off, the world is suddenly thrust back into the dark ages. Planes fall from the sky, hospitals shut down, and communication is impossible. And without any modern technology, who can tell us why? Now, 15 years later, life is back to what it once was long before the industrial revolution: families living in quiet cul-de-sacs, and when the sun goes down lanterns and candles are lit. Life is slower and sweeter. Or is it? On the fringes of small farming communities, danger lurks. And a young woman's life is dramatically changed when a local militia arrives and kills her father, who mysteriously - and unbeknownst to her - had something to do with the blackout. This brutal encounter sets her and two unlikely companions off on a daring coming-of-age journey to find answers about the past in the hopes of reclaiming the future.
MY TAKE

Hey everybody, Shawn Mathenia here.  And this time, I do not have a review of a movie.  This might be the first review of a TV show on THEMOVIEMARK.  If Adam has done a TV show review before, it was probably because Josh Brolin was in it.
[Editor's Note: That's actually true.  I did reviews of both The Young Riders and Mister Sterling.]
I asked Adam if we could start doing TV show reviews and he liked the idea.  Even if we don't get a sneak peek at an episode, we can still review it.  The Internet has changed the way that we watch TV.  If we miss the show on the box, we can always catch it on the net. And that is a game changer for reviewers.
I took the time to watch the sneak peek online on NBC.com.  The pilot is directed by Jon Favreau of IRON MAN fame.  The show has potential.  I am a huge Abrams fan, so I was expecting more from it.  But I do not think my time was wasted.
The whole premise is intriguing.  Everything goes dark, but there is a secret way to turn it back on.  But before we get to that we must learn why it was turned off in the first place.  And we have to learn who all the main players are and why they are the way they are.  And that is the rub… I didn't really care about that part. The characters hold a lot of promise, but they need to be fleshed out a little bit more.  Billy Burke is the best part of the TWILIGHT SAGA and is definitely the best part of this pilot.
Favreau does a good job directing… nothing fabulous though.  Although, the sword fight scene is exciting.  I am a sucker for a good sword fight and Favreau doesn't disappoint.
All in all, I will be watching this series.  And I am hoping to write reviews for all three or four of my fans.  Drop me an email if you have any shows you want me to review – shawn@roarecho.com.
Until the next review… C YA.
MAMA'S APPROVAL
N/A
Email The Movie Mark