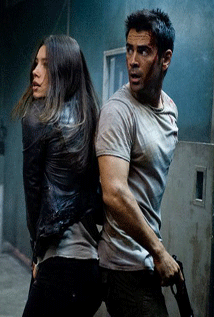 Total Recall is this weekend's big release, so let's check out some exclusive film clips this week, shall we?
"Admit it.  This is just your way of being lazy and avoiding writing fresh material!"

How DARE you… so accurately pinpoint my true motivations.  Regardless, this is a pretty cool clip featuring Kate Beckinsale, Colin Farrell, and Jessica Biel firing off a few rounds at each other.  Enjoy.
And if it's fresh material you want then stay tuned for my review on Friday.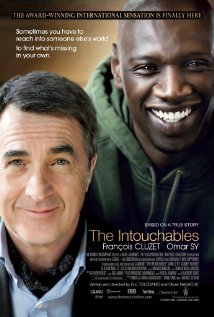 "An irreverent, uplifting comedy about friendship, trust and human possibility, THE INTOUCHABLES has broken box office records in its native France and across Europe.  Based on a true story of friendship between a handicap millionaire (Francois Cluzet) and his street smart ex-con caretaker (Omar Sy), THE INTOUCHABLES depicts an unlikely camaraderie rooted in honesty and humor between two individuals who, on the surface, would seem to have nothing in common.  Directed Eric Toledano and Olivier Nakache, the film was nominated for a total of nine 2012 César Awards, France's equivalent to the Oscars,  including Best Picture, and winning Best Actor for breakout star Omar Sy, and won the Grand Prize at the 2011 Tokyo International Film Festival."
If you go see The Intouchables between July 27th and August 3rd then you will receive a card from participating theaters on how to redeem the free eBook You Changed My Life: A Memoir.
Read the press release for more details.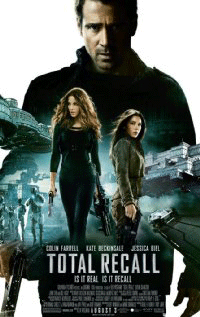 It's been so long since I've seen the original Total Recall that I can't totally recall (my sincerest apologies) if it's a film that stands the test of time or not.  What I do know is that the Colin Farrell/Kate Beckinsale/Jessica Biel remake looks entertaining and action-packed even if Farrell seems a curious choice as Doug Quaid.  Doesn't matter.  I look forward to screening it next week almost as much as you look forward to my review.
Until then, here's a treat to all seven of my faithful readers.  In the following featurette, Colin Farrell, Jessica Biel, John Cho, and director Len Wiseman discuss the story, while Kate Beckinsale briefly talks about playing a villain for the first time in her acting career.  Enjoy.
QUESTION
Is this a remake that you're looking forward to or is it one you could do without?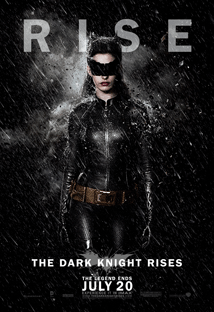 I saw The Dark Knight Rises this weekend, and it was an incredible movie-going experience.  My full review is forthcoming, but today I want to touch on something.  One of the big debates is which is better – The Avengers or TDKR?  Well, I'm here to provide you with the definitive answer…
The Dark Knight Rises.  And it's not even close.
Don't get me wrong; The Avengers is great.  After all, I gave it 5 boots out of 5, so don't try to label me a "hater."  But its greatness lies solely in its pure entertainment value.  It is carried by its wit and non-stop action.  TDKR, on the other hand, is so much more.  It's a film with true purpose. The characters and story contain an emotional depth that The Avengers simply does not have.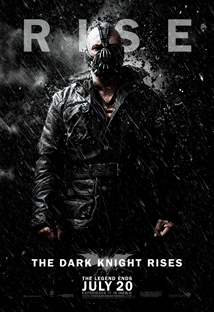 It's Friday morning, and I will give my brother Andrew and sister Amber credit – they haven't sent me any spoilers from The Dark Knight Rises yet.  I've threatened to disown them as siblings if they do, but for some reason that threat doesn't really seem to hold much weight.
Anyway, let's look at some facts and quotes regarding the different costumes that the iconic characters wear in this film and how their designs came about.
BRUCE
 That's a brazen costume for a cat burglar.
SELINA
 Yeah? Who are you pretending to be?
The Batsuit
The multi-layered Batsuit was comprised of 110 separate pieces, each of which had to be replicated dozens of times over the course of the production. The base layer was made of a polyester mesh that is utilized by the military and high-tech sports manufacturers because of its breathability and moisture-wicking properties. Individually molded pieces of flexible urethane were then attached to the mesh, forming the overall body armor plating. Adding another level of protection, light but strong carbon fiber panels were placed inside the sections on the legs, chest and abdomen. The cowl was sculpted from a cast of Bale's face and head and then molded for a perfect fit.
There were also ten different versions of the iconic cape, ranging in length and shape—from shorter ones, used in action scenes, to the glider cape that snaps into the shape of spread batwings.
Tom Hardy, whose character is supposed to be more than a match for the Dark Knight, recounts, "I remember the first time I saw Christian in the makeup chair, and I arrogantly thought to myself, 'That's not a problem; I can handle him.' And then, on the set, Batman showed up. It wasn't Christian Bale anymore; he absolutely was Batman."
Continue reading "Odds & Ends 2: The Dark Knight Rises Costumes" »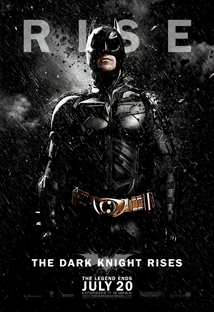 It's hard to imagine being more hyped for a movie than I am for The Dark Knight Rises.  Well, of course, Josh Brolin has Gangster Squad coming out this Fall.  But read my reviews of Batman Begins and The Dark Knight if you want a better idea of my love for this series.  They're two of my all-time favorite films, and I have no doubt that TDKR will rank up there as well.
The fact that Christopher Nolan didn't get an Oscar nomination for Best Director and The Dark Knight was not nominated for Best Picture is an indictment on what a joke the Academy Awards truly are.
"So are you gonna be camping out at the theater tonight to catch one of the midnight showings?"
Unfortunately, no.  I want to see the movie with my lovely bride, and while Kim was originally open to the idea of a midnight showing, it was ultimately determined that getting home after 3:00 AM on a work night wouldn't be ideal.  To make matters worse, she has a friend who decided this was a good weekend to get married (you know who you are, and you should be ashamed), and since Kim's in the wedding party that has cluttered the weekend schedule just a bit.  Of all weekends.
I truly think either the Lord has a spiritual lesson He wants me to learn through all of this, or Satan is working overtime.
Anyway, here's what I have managed to work out:
I have BB and TDK on blu ray and will be enjoying them in 7.1 Surround Sound.  But here's my warning – don't you dare try to get cute and send me any spoilers.  I WILL hurt you, and it will be justifiable.
And while TDKR was sadly not screened in Memphis (the one press screening they were supposed to have got cancelled) I still have the press kit, and thus I have access to all sorts of cool facts about the movie.  So for the rest of this week I'm going to share with you some quotes and tidbits regarding the movie just in case you needed anything else to get you excited.  Don't worry; there are no spoilers.
Continue reading "Odds & Ends Part 1: The Dark Knight Rises" »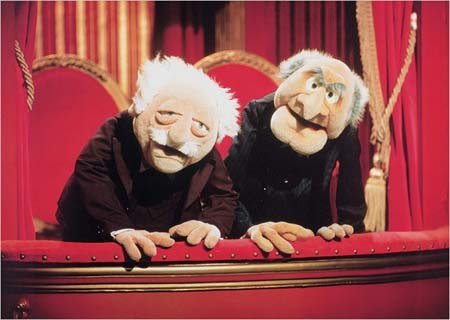 ** In honor of the release of The Dark Knight Rises, I want to revisit an article I wrote when Batman Begins opened.  Let me take you back to 2006… **
Those of you who have read this site for long know that one of the reasons I decided to become a movie reviewer was because I was tired of reading the same ol' reviews by the same ol' critics who seem to think their job is to attempt to impress people with their deft usage of a thesaurus.  Either that or they have an old English professor whose approval they still desperately desire.  That's why many of my readers have dubbed me the "anti-critic."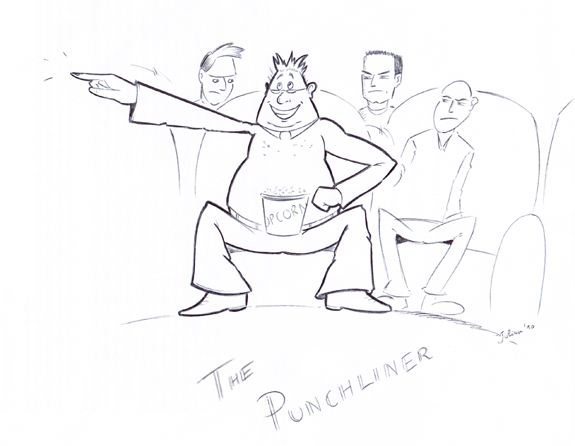 "The Punchliner.  You know him.  You've sat behind, beside, or in front of him at the theater.  He's the guy who brags that he was the class clown in high school, but if you ever meet any of his former classmates they'll assure you that it was a self-appointed title.  The problem is that he's gotten progressively less funny in the last 20 – 30 years, and that's quite a testament to his ineptitude in the comedy department."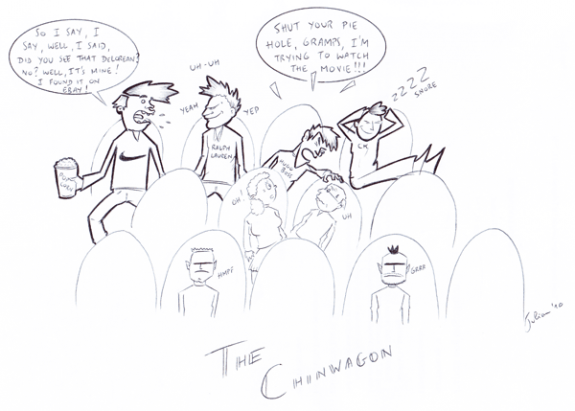 "Who can give me a good reason why you would buy a movie ticket and go into the theater before the previous showing is finished?  Why would you want to spoil the ending?
It was the Spring of 2005.  Star Wars 3: Revenge of the Sith had been released, and fanboys of all ages had come together in a sign of geek solidarity.   Though I had already seen the movie, my 10-year-old brother had not, and he wanted to see it with his big bro.  How could I resist?
Everything was going swimmingly until the last 15 minutes when a group of teenagers waltzed into the theater and proceeded to act like it was their own private showing…"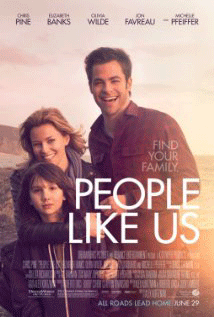 "Family secrets.  Some are minor indiscretions that are more embarrassing than they are damaging.  Others are true skeletons in the closet whose revelations could threaten an entire heritage.  If my parents have any bombshells waiting to explode then I'm oblivious.  I certainly don't anticipate ever receiving news that I have a long-lost sibling that I have to deliver inheritance money to.  Nor do I have any idea how I would handle such a situation.
So I was quite content to live the experience vicariously through People Like Us.  Buoyed by strong performances by Chris Pine, Elizabeth Banks, and Michelle Pfeiffer, People Like Us complements those performances with an engaging, and oftentimes heartfelt, story and delivers an enjoyable alternative to the big budget Summer blockbusters."