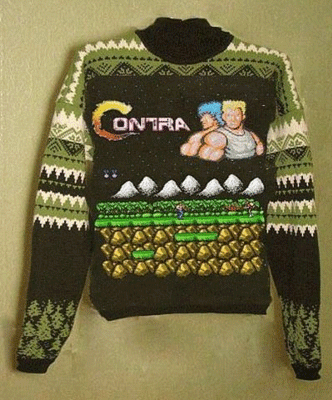 I don't participate in "bad sweater" parties because I can't bring myself to spend good money on a sweater with reindeer and snowflakes on it just so I can wear it once a year.  At most.  However, I would wear the bad boy you see pictured above EVERYWHERE.
In fact, it is now one of my life goals to become known as the guy who arrives at parties with his Nintendo and a copy of Contra who then hooks everything up, enters the UP-UP-DOWN-DOWN-LEFT-RIGHT-LEFT-RIGHT-B-A-B-A-SELECT-START code, beats the game, points to the sweater with both thumbs and says, "Who has two thumbs and just Contra-bombed your party?  This guy," and then walks out.
That's it!  Contra-bombing!  I've found something that will catapult The Movie Mark from 7 readers to 9.  You heard it here first, folks.  This is gonna become a thing.
I don't know if the sweater is legit, but if it is then I'm begging someone to find it for me.  If it's not then I challenge someone to make one for me.
Now if Wal-Mart will just get some more hot dog shirts back in stock…