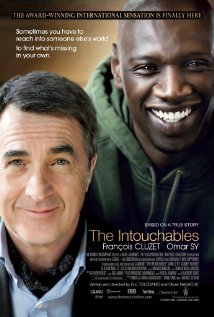 "An irreverent, uplifting comedy about friendship, trust and human possibility, THE INTOUCHABLES has broken box office records in its native France and across Europe.  Based on a true story of friendship between a handicap millionaire (Francois Cluzet) and his street smart ex-con caretaker (Omar Sy), THE INTOUCHABLES depicts an unlikely camaraderie rooted in honesty and humor between two individuals who, on the surface, would seem to have nothing in common.  Directed Eric Toledano and Olivier Nakache, the film was nominated for a total of nine 2012 César Awards, France's equivalent to the Oscars,  including Best Picture, and winning Best Actor for breakout star Omar Sy, and won the Grand Prize at the 2011 Tokyo International Film Festival."
If you go see The Intouchables between July 27th and August 3rd then you will receive a card from participating theaters on how to redeem the free eBook You Changed My Life: A Memoir.
Read the press release for more details.
Tweet