I was feeling a little nostalgic recently and decided to read an old "Johnny Betts" paper from elementary school.  In doing so, I noticed something very interesting when you click on the "Tools" menu item on Microsoft Word. Check it out: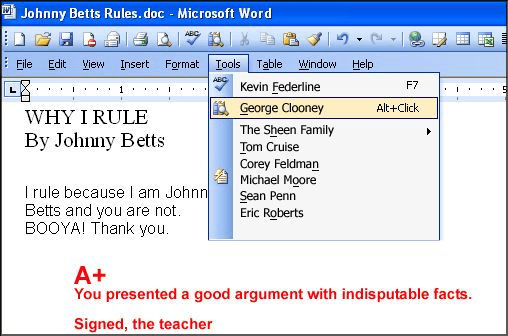 Feel free to send this slice of hilarity to all your friends and family. But keep in mind that it is a Movie Mark original, so you're required to provide proper credit.  Failure to do so will result in a Southern Fried, biker boot-laced beat down.
"Hey, you said that was an old paper you wrote in elementary school?"
Yeah, that's right.
"Um, there was no such thing as Microsoft Word when you were in elementary school."
Yeah, well, I've had my staff transfer all my old handwritten school papers into Word for longevity, posterity, and whatnot.  Don't be a smart aleck.
Tweet