Share this page:
Searching Over and Underneath: An Interview with Tenth Avenue North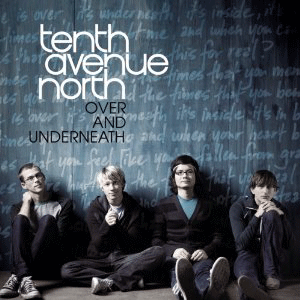 Once little more than a street name, Tenth Avenue North encapsulated a whole new meaning when Mike Donehey and Jason Jamison moved into student housing off of the street and named a band after it.  Thus began a journey through the Christian music industry – a journey rooted in the conviction of giving a voice to the message of the Gospel.
"Our hope with our record is that we would shake up the people who put stock in their own righteousness to save them," says songwriter/vocalist Mike.  "Our first record was called Over and Underneath.  And the whole idea of that is Christ is over the purest of the pure … everyone is so bad Jesus had to die for them … but at the same level, He went underneath the lowest of the low, bearing our sins on the cross.  So He humbles the proud, and He lifts up the wicked on His broad shoulders on the cross."
Humbling ourselves so that others might be exalted should be a freeing tenet for Christians.
"I feel like Christians, of all people, should be the most free admitting their hang-ups," says Mike. "You're not depending on your own righteousness or your own credibility or your own performance to be the thing that saves you; you claim the performance of another.  That should give us the freedom to be incredibly intimate with anybody."
It's an intimacy that opens a door to biblical forgiveness – a concept that is explored in their album The Light Meets the Dark. "James says confess your sins one to another and pray for each other that you might be healed.  There's a healing that takes place in us when we actually confess to another person; something that doesn't necessarily happen when you just confess to God …  a tangible, real, letting down of your walls.  Looking into their eyes and hearing them say 'You're forgiven' is something that we need in our existence here."
Through raw, personal, and uncompromising lyrics, Tenth Avenue North recognizes there is darkness in all of us, and Mike is bold in his belief that the truth is what matters, regardless of how inconvenient it may be.
"I would actually say the hardest people to please is Christian radio because so many radio stations are operating not under the term 'Christian' but under the umbrella of 'safe and positive.'  The problem is, a lot of what Jesus said wasn't safe, and it wasn't positive … That's been really challenging."
It's a challenge that fosters the band's continued growth and keeps them grounded regardless of their "success."
"When I get up in front of a stage," Mike explains, "I couldn't care less if a thousand people were cheering for us or if there were ten people, provided that God's presence meets with us."
As for his approach to music, there's a correlation between the maturation of his faith and his growth as an artist.
"At first it was just about an emotion that I knew I could get in God's presence, and then I started sitting under really good teaching, and experiencing God's presence through the truth of the Gospel and in the person of Jesus."
The band started playing camps with the goal of getting a big emotional reaction from the crowd, but Mike soon realized that the following year, the kids who previously had an "incredible experience" all had walked away.  The emotional high was soon fleeting, and none had a better understanding of the truth.  Mike felt a burden "to help people understand what God says," and it was time to go deeper.
"The reason I started writing songs was because these are the things I hear people struggling with.  Love is Here was our first radio single, and I wrote that song because I was sitting at a camp talking to kids, and they were saying, 'I would know that God loves me if He did this in my life…'  Well, Romans says God proves – present tense – His love in that while we were still sinners, Christ died – past tense – for us.  That means the cross, though it happened 2000 years ago, is the present demonstration of God's love to you."
Regardless of what struggles or successes the future holds, Mike can rest in something the band has learned during their journey: "Sometimes God redeems us from the struggle, and sometimes God redeems us through the struggle."
For more information check out http://www.tenthavenuenorth.com.
Email The Movie Mark