Share this page:
Cell Phones + Quiet Theater = Don't Mix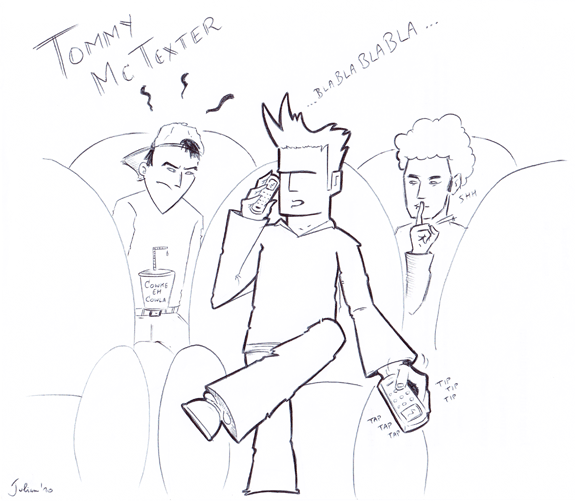 You know how the story goes.  You're sitting in the theater, enjoying the movie, and then suddenly you hear the distinctive sound of a cell phone ringing.  You sigh, shake your head, and silently wish ill will upon the perpetrator (seeking the Lord's forgiveness later, of course).  You figure common courtesy will rule the day and the guy will silence the cell phone and all will be well.  It takes approximately 2 seconds to realize that you should've brought a calculator because you figured wrong.
It's an all too familiar situation.  I was at a movie recently where a guy answered his phone and proceeded to have a conversation.  To make matters worse it was during a quiet part of the movie, and he was talking in a regular speaking voice.  This citified jack-a-dandy didn't even have the courtesy to whisper.  Sure, it would've been nice to actually hear the dialogue in the movie, but unfortunately that was drowned out by his apparently important phone conversation.
"Hey! … I'm at the movies … Yeah, it's pretty good … All right … OK, I guess I'll call you back then…"
And it went on for at least a minute.  Wow, that sounded like an extremely urgent phone call. Glad you decided to take that one.  I can't help but assume a life was saved after finding out the guy was at the movies.
People yelled at him to shut up, but the requests fell on deaf ears.  I'm thankful that the Lord has helped me learn to control my temper over the years.  Otherwise, I would've been severely close to giving in to the temptation to calmly remove the guy's cell phone from his hand and launch it toward the front of the theater.  Either that or use his teeth as a speed bag.
What do you want to bet it would've been the last time he talked out loud on a cell phone at the movies?
Folks, there's a little thing in life that I like to refer to as common courtesy.  It's not a bad thing to exercise every now and then.  If you have a cell phone, and you go to a movie, then turn the ringer off.  If you're the type of person who is easily tempted to answer your phone and carry on a normal-voiced conversation during a movie, then there is hope.  You can resist that temptation!  I know because as I learned in Sunday school, the Bible told me so!  1 Corinthians 10:13: "No temptation has overtaken you except such as is common to man; but God is faithful, who will not allow you to be tempted beyond what you are able, but with the temptation will also make the way of escape, that you may be able to bear it."
Just leave your phone in the car.  Get that temptation out of sight.
Honestly, how important of a call are you going to get during a movie?  Your wife's pregnant?  You have a family member who is near death in the hospital?  There is some other possible life emergency that requires you to be near your cell phone?  Well, then you probably shouldn't be at the movies in the first place.  Please, quit being selfish.
Theaters need to devise ways to deal with these types of people.  My suggestion is that first time offenders receive a warning.  If you commit a second offense then you will be flagged and equipped with a shock collar upon subsequent theater visits.  An employee will be assigned to your theater and if you answer a call during the movie then you get a nice little shocking reminder that you shouldn't be doing that.
If that fails, then give the employee permission to calmly remove the cell phone from the person's hand and launch it toward the front of the theater.  The employee must then cue up his best Schwarzenegger impersonation, turn to the person, and say, "Looks like your minutes are up."
QUESTION
What's wrong with people?
Email The Movie Mark