Tweet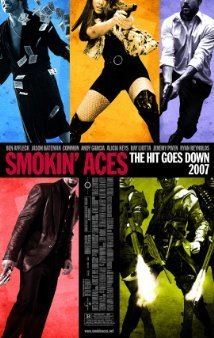 Smokin' Aces (2007)

" Smokin' Aces will find its fair share of supporters, but I ain't one of 'em and I have no problem admitting it. I didn't even think it succeeded in a "mindless action" sort of way. Your best bet is to save your money and catch it on TNT one day. "
Director: Joe Carnahan
Starring: Alicia Keys, Ben Affleck, Jeremy Piven, Ray Liotta, Ryan Reynolds
Studio: Universal Pictures
Tagline: May the best hitman win.
Release Date: January 25, 2007
PLOT
Mob boss Primo Sparazza has placed a $1 million bounty on Buddy "Aces" Israel (Piven) - a sleazy magician who has agreed to turn state's evidence against the Vegas mob. When word of the price on Aces' head spreads, all sorts of weird and quirky bounty hunters join the chase, while two FBI agents (Liotta and Reynolds) try to protect him. Murder, mayhem, and massive audience indifference ensue.
MY TAKE
Boasting an eclectic cast, a visceral edge, and more mayhem than a Manson Family reunion, Smokin' Aces ultimately fails due to its inability to offer audiences a legitimate reason to care about anything other than the body count's final tally.
The "Anything with Lots of Bullets and Deaths is AWESOME" Teenage male demographic will likely look past all of the film's shortcomings and declare it "pretty sweet." I, on the other hand, found it to be nothing more than annoying. Well, I take that back – it was also obnoxious. Sure, there is a wide variety of "quirky" characters sauntering from scene to scene, but what good are a bunch of caricatures when you can't stand any of them?
There was not a single character's fate that I cared about, and as a result, I simply had no interest invested in the film's story or its resolution. That made the last-second, tacked-on plot twist so exhausting. Andy Garcia, through a haze of accent, crams a convoluted explanation into the proceedings in an obvious attempt to convince audiences that the film is smart and clever, but the only reaction I could muster was, "So?"
Another one of the film's problems is that it makes no distinction between "quirky" and "plain stupid." Take the little karate kid, for example. He is perhaps the most annoying character of any movie I've seen in the past five years. Maybe even more. Chris Kattan is Josh Brolin compared to this brat. He is involved in an embarrassingly long scene where he half-heartedly speaks in Ebonics and does a bunch of karate moves in Martin Henderson's face. The heck? It has a good chance to be the worst scene of any movie I see this year.
Was everything deemed too sacred for the cutting room floor? Sheesh.
Non sequiturs like this just made me think the filmmakers were throwing in a bunch of weird stuff that they knew made no sense with the hope that people would mistake it for being original and unconventional (one of the Tremor brothers rapidly eating a couple of baby carrots being another fine example). I'm sure it'll come across that way to a few teenagers out there. I, however, just shook my head and started thinking about how my 401(k) stock was doing.
The coolest thing about the movie is the 50-caliber sniper rifle that Alicia Keys' extremely annoying partner uses. And by "extremely annoying" I mean "rejected American Idol contestant" annoying. Anyway, you can't help but be impressed with its firepower when the bullets start flying, but even that scene is marred by the stupidity of the FBI agents randomly firing their pistols out the window in the general direction of the building across the street.
They have no idea of the exact location of the sniper but they're just going to shoot their HANDGUNS haphazardly and hope for the best? Riiiiiiiight. I'm gonna write a sequel where a citizen was killed in the crossfire and his family successfully sues the FBI.
At the end of this ballgame, Smokin' Aces, despite its attempt to create a style of its own, fails to engage in any manner outside of its visuals. It introduces way too many underdeveloped characters with very little to do amidst the backdrop of a story we're not given any reason to follow.
The movie desperately wants to be the coolest cat in school but it tries way too hard. It wants to be different. Like all of its friends. Screaming "look at me! look at me!" may indeed get people to glance your way, but the problem is that upon closer inspection we can see beneath the surface, and that's when we recognize that what we're looking at just ain't all that pretty.
ODDS & ENDS
Jeremy Piven's self-important smug has always annoyed me, but he takes unlikability to an art form with his portrayal of Buddy Israel.
Chris Pine does his best scuzzy Brad Pitt impersonation.
Keeping an eye out for cameos is the most engaging aspect of the film. But when Ben Affleck is your best character, well, where does that leave you?
Jason Bateman is funny in his cameo, until somebody decided it was a good idea to show him in a thong. I vomited in my mouth a little.
The use of "dead" as a verb grated on my nerves. "I don't wanna dead everybody in the hotel." The worst is one sentence where Alicia Keys' annoying partner decides to go a non-intellectual step too far and use the past tense of its grammatically incorrect verb form – deaded. Sigh.
You might remember Martin Henderson from Torque. Or you may have successfully erased every memory of that film from your mind.
While leaving the theater I overheard a girl say, "It was kind of like The Usual Suspects." A DVD copy of The Usual Suspects showed up out of nowhere and slapped her in the face.
Jeremy Piven was in Old School with Will Ferrell who was in Melinda and Melinda with Josh Brolin who was in Hollow Man with Kevin Bacon.
MAMA'S APPROVAL
Rated R for strong bloody violence, pervasive language, some nudity, and drug use, Smokin' Aces offers pretty much nothing that would meet mama's approval. It's loaded with profanity ("f" bombs galore), nudity (including an extended shot of some chick lying topless on the ground), drug usage, and graphic violence. If you can't find a babysitter and decide just to take your kid to the movie with you then I'll be honest - I hope someone calls social services.
Email The Movie Mark
3 Responses to "Smokin' Aces"