Share this page:
Tweet
Tweet #themoviemark

Gnats: In the Mind's Eye
- A Movie Mark Original
Tagline:
This is GNAT Your Ordinary Pest!
Cast:
Patrick Muldoon, Lorenzo Lamas, Kari Wuhrer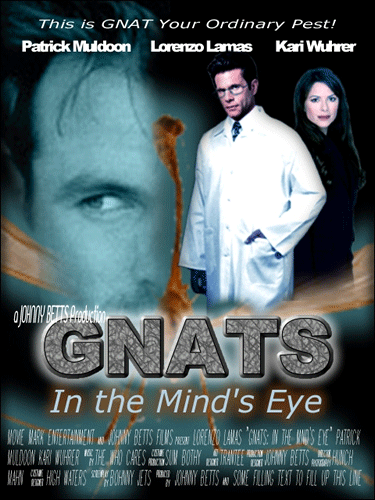 Summer has always proven to be a less-than-desirable season in the sheltered community of Gnatville – named after the fact that thousands of gnats migrate to the town every summer.
An evil scientist (Lorenzo Lamas – complete with glasses and white lab coat) has been creating small, mechanical gnats for several years. They are designed to enter a person's eye – for good. Once in the eye, they can travel to the person's brain. After attaching itself to the brain, the mechanical gnat acts as a computer chip from which Dr. Lamas can retrieve all sorts of useful information, but not only that, he can use the gnat to create programs that can control the brain it's attached to.
Dr. Lamas knows that the annual gnat migration will serve as a perfect cover and keep his Gnato-chips from being discovered. However, the one thing he didn't count on was a former baseball star (Patrick Muldoon) returning to his hometown of Gnatville after an injury cuts his career short. Muldoon becomes suspicious that something isn't right when he notices the altered behavior of old friends and family members.
Why are people eating GNATCHOS? And why are babies being given names such as GNATALIE? Are gnats completely taking over, and do they have a leader? Muldoon and his beautiful yet tough-as-nails high school sweetheart (Kari Wuhrer) are determined to solve the mystery, while Dr. Lamas is determined to control the town.  Bad puns and abundant amounts of scene-chewing ensue.
Email The Movie Mark