Share this page:
Tweet
Tweet #themoviemark

Chalupacabra
- A Movie Mark Original
Tagline:
Say cheese. Spicy Monterey Jack cheese...
Cast:
Danny Trejo, Lorenzo Lamas, Lou Diamond Phillips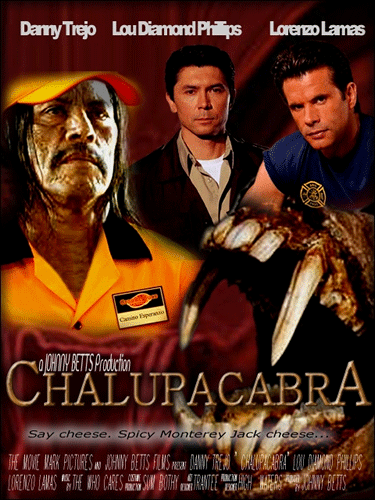 Camino Esperanzo (Trejo) has been a fast food employee his entire life, never reaching for greater heights.  After a string of gruesome deaths puts the entire community in a state of unease, Camino becomes suspicious when it's discovered that one thing all of the victims have in common is that each one had eaten at his place of employment – Grande Taco – just prior to death.
Another thing the victims have in common is that they were all gutted in the same vicious manner, leading locals to discuss the possibility that these attacks are at the clawed hands of the Chupacabra, a mythical creature whose stories are usually relegated to bad horror movies and sketchy tabloids.
Camino's suspicions are raised even higher when he recalls his manager returning from a trip to Puerto Rico claiming he had found the perfect ingredient that was finally going to put Grande Taco ahead of its competition – Chupacabra eggs.
Camino originally laughed this off as a fanciful tale and figured the new special was called El Taco de Diablo because of how hot and spicy it was, but he soon starts to think that something more sinister is afoot.
Can he team with detectives Mario (Lamas) and Lopez (Phillips) in time to stop the damage being done by the Chalupacabra, or will customers continue to suffer from more than just a bad case of heart burn?
Email The Movie Mark